Setting Students Up for Success

Teaching students the skills to become strong, confident, responsible, and respectful citizens of our school and our community.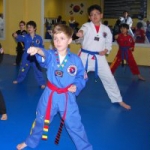 Student Creed
I promise to be a good person.
With knowledge in my mind,
Honesty in my heart.
To make new friends.
And to become a Black Belt, SIR!
Tae Kwon Do Chong Shin
Courtesy
Integrity
Perseverance
Self Control
Indomitable Spirit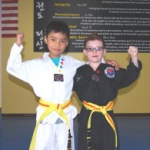 Tae Kwon Do Rules
1. Respect Your Parents
2. Always Do Your Best In School
3. Believe In Yourself
World Champion Tae Kwon Do
Stripes For
Success Program
Black Stripes / Star
Blue Stripe
Red Stripe
Green Stripes
Yellow Stripes
Find out more
Tae Kwon Do Chong Shin
Courtesy

Courtesy is thinking about other people's feelings and thoughts. It means being polite and considerate.

Integrity

Integrity means to be honest to oneself and others. It means to be true to what is right.

Self Control

Self-control is the discipline to manage one's own actions, desires, and emotions in order to act and think in the best way possible to respect in respect to oneself and others.

Perseverance

Perseverance means to stand up after every fall and to learn from mistakes. It is the strength to even when there is no energy left. It takes patience, determination, and belief in oneself.

Indomitable Spirit

Indomitable Spirit refers to the unique part of each person that gives them hope, strength, and courage to never give up. It is the passion, the motivation, and the drive that propels each individual to his or her potential.
Our Schedule
Find the class that is right for you and fits your schedule.
October 2017
Mon

Monday

Tue

Tuesday

Wed

Wednesday

Thu

Thursday

Fri

Friday

Sat

Saturday

Sun

Sunday

September 25, 2017

3:45 pm: White Belt

White Belt: All white belt students.

This class is for White Belts of all ages.

In this class, the basics upon which all advanced techniques are based are stressed. This is a great class for our younger students because it gives them a chance to work on their budding skills without the stress of having higher belts around.

Please note that white belts are not required to attend this class, although it is highly recommended.
Check Out Our Trial Program

4:30 pm: Level 1

Level 1: Yellow Stripe, Yellow Belt

This class is for all age students who hold one of the following belts:

Yellow Stripe Belt
Yellow Belt

This class will focus on the basic skills that these students need to master in order to learn more advanced techniques. Provides the students an opportunity to focus on skill sets that are at their current level.

4:30 pm: Level 2

Level 2: Orange Stripe, Orange Belt, Green Belt


This class is for all age students who hold one of the following belts:

Orange Stripe Belt
Orange Belt
Green Belt

Class will focus on more advanced skills while maintaining the basic skills that these students learned in Level 1 classes. Provides the students an opportunity to focus on skill sets that are at their current level.

5:15 pm: Level 3

Level 3: Blue Stripe, Blue Belt, Brown Stripe, Brown Belt

This class is for all age students who hold one of the following belts:

Blue Stripe Belt
Blue Belt
Brown Stripe Belt
Brown Belt

This class will focus on highly advanced skills while maintaining the basic skills that these students learned in Level 1 and Level 2 classes. Provides the students an opportunity to focus on skill sets that are at their current level.

5:15 pm: Level 4

Level 4: Red Belt, Black Stripe


This class is for all age students who hold one of the following belts:

Red Belt
Black Stripe Belt

This class will focus on highly advanced skills while maintaining the basic skills that these students learned in Level 1 through Level 3 classes. Provides the students an opportunity to focus on skill sets that are at their current level.

6:00 pm: Sparring Class

Sparring Class


This class is for all students of all belt levels. Students will be engaged in contact sparring during this class, which means that they will actually be kicking and punching each other.

There is no extra fee for this class, however students will be required to purchase and wear protective gear to participate. This gear can be purchased through our office, talk to the office manager for pricing and details.

6:45 pm: Black Belt All

Black Belt: All black belt students, all levels

(unless otherwise noted)


This class is for all Black Belt students of all levels. Advanced skills are taught and current skills are honed.

We encourage students to come to classes that are most appropriate for them, while keeping their own schedule in mind. If you are a white belt, we encourage you to come to white belt classes, where you will be able to focus on building your core set of skills that will carry you through the higher belts.

If you are an orange belt, we encourage you to come to the Level 2 classes at least part of the time, where you will be able to focus on more advanced techniques.

7:30 pm: Child and Family

Child and Family

This class is for all students of all belt levels. Basic skills are reviewed while higher belts learn more advanced skills. We have several families who come to class together during the Kid and Family classes, and it is a great way for them to spend time together.

We have students from age 5 to adult participating together in this class, so it is suitable for any student at any belt level.

September 26, 2017

4:00 pm: Level 1

Level 1: Yellow Stripe, Yellow Belt

This class is for all age students who hold one of the following belts:

Yellow Stripe Belt
Yellow Belt

This class will focus on the basic skills that these students need to master in order to learn more advanced techniques. Provides the students an opportunity to focus on skill sets that are at their current level.

4:00 pm: White Belt

White Belt: All white belt students.

This class is for White Belts of all ages.

In this class, the basics upon which all advanced techniques are based are stressed. This is a great class for our younger students because it gives them a chance to work on their budding skills without the stress of having higher belts around.

Please note that white belts are not required to attend this class, although it is highly recommended.
Check Out Our Trial Program

4:45 pm: Level 2

Level 2: Orange Stripe, Orange Belt, Green Belt


This class is for all age students who hold one of the following belts:

Orange Stripe Belt
Orange Belt
Green Belt

Class will focus on more advanced skills while maintaining the basic skills that these students learned in Level 1 classes. Provides the students an opportunity to focus on skill sets that are at their current level.

4:45 pm: Level 3

Level 3: Blue Stripe, Blue Belt, Brown Stripe, Brown Belt

This class is for all age students who hold one of the following belts:

Blue Stripe Belt
Blue Belt
Brown Stripe Belt
Brown Belt

This class will focus on highly advanced skills while maintaining the basic skills that these students learned in Level 1 and Level 2 classes. Provides the students an opportunity to focus on skill sets that are at their current level.

5:30 pm: Black Belt 1st Dan

Black Belt: 1st Dan

This class is for all Black Belt students who are 1st Dan only. Advanced skills are taught and current skills are honed.

We encourage students to come to classes that are most appropriate for them, while keeping their own schedule in mind. If you are a white belt, we encourage you to come to white belt classes, where you will be able to focus on building your core set of skills that will carry you through the higher belts.

If you are an orange belt, we encourage you to come to the Level 2 classes at least part of the time, where you will be able to focus on more advanced techniques.

6:15 pm: Child and Family

Child and Family

This class is for all students of all belt levels. Basic skills are reviewed while higher belts learn more advanced skills. We have several families who come to class together during the Kid and Family classes, and it is a great way for them to spend time together.

We have students from age 5 to adult participating together in this class, so it is suitable for any student at any belt level.

7:00 pm: Black Belt 2nd Dan Up

Black Belt: 2nd Dan Up


This class is for all Black Belt students of all levels. Advanced skills are taught and current skills are honed.

We encourage students to come to classes that are most appropriate for them, while keeping their own schedule in mind. If you are a white belt, we encourage you to come to white belt classes, where you will be able to focus on building your core set of skills that will carry you through the higher belts.

If you are an orange belt, we encourage you to come to the Level 2 classes at least part of the time, where you will be able to focus on more advanced techniques.

September 27, 2017

September 28, 2017

September 29, 2017

September 30, 2017

9:30 am: Child and Family

Child and Family

This class is for all students of all belt levels. Basic skills are reviewed while higher belts learn more advanced skills. We have several families who come to class together during the Kid and Family classes, and it is a great way for them to spend time together.

We have students from age 5 to adult participating together in this class, so it is suitable for any student at any belt level.

10:15 am: Black Belt All

Black Belt: All black belt students, all levels

(unless otherwise noted)


This class is for all Black Belt students of all levels. Advanced skills are taught and current skills are honed.

We encourage students to come to classes that are most appropriate for them, while keeping their own schedule in mind. If you are a white belt, we encourage you to come to white belt classes, where you will be able to focus on building your core set of skills that will carry you through the higher belts.

If you are an orange belt, we encourage you to come to the Level 2 classes at least part of the time, where you will be able to focus on more advanced techniques.

October 1, 2017

October 2, 2017

October 3, 2017

October 4, 2017

October 5, 2017

October 6, 2017

October 7, 2017

9:30 am: Child and Family

Child and Family

This class is for all students of all belt levels. Basic skills are reviewed while higher belts learn more advanced skills. We have several families who come to class together during the Kid and Family classes, and it is a great way for them to spend time together.

We have students from age 5 to adult participating together in this class, so it is suitable for any student at any belt level.

10:15 am: Black Belt All

Black Belt: All black belt students, all levels

(unless otherwise noted)


This class is for all Black Belt students of all levels. Advanced skills are taught and current skills are honed.

We encourage students to come to classes that are most appropriate for them, while keeping their own schedule in mind. If you are a white belt, we encourage you to come to white belt classes, where you will be able to focus on building your core set of skills that will carry you through the higher belts.

If you are an orange belt, we encourage you to come to the Level 2 classes at least part of the time, where you will be able to focus on more advanced techniques.

October 8, 2017

October 9, 2017

October 10, 2017

4:00 pm: Level 1

Level 1: Yellow Stripe, Yellow Belt

This class is for all age students who hold one of the following belts:

Yellow Stripe Belt
Yellow Belt

This class will focus on the basic skills that these students need to master in order to learn more advanced techniques. Provides the students an opportunity to focus on skill sets that are at their current level.

4:00 pm: White Belt

White Belt: All white belt students.

This class is for White Belts of all ages.

In this class, the basics upon which all advanced techniques are based are stressed. This is a great class for our younger students because it gives them a chance to work on their budding skills without the stress of having higher belts around.

Please note that white belts are not required to attend this class, although it is highly recommended.
Check Out Our Trial Program

4:45 pm: Level 2

Level 2: Orange Stripe, Orange Belt, Green Belt


This class is for all age students who hold one of the following belts:

Orange Stripe Belt
Orange Belt
Green Belt

Class will focus on more advanced skills while maintaining the basic skills that these students learned in Level 1 classes. Provides the students an opportunity to focus on skill sets that are at their current level.

4:45 pm: Level 3

Level 3: Blue Stripe, Blue Belt, Brown Stripe, Brown Belt

This class is for all age students who hold one of the following belts:

Blue Stripe Belt
Blue Belt
Brown Stripe Belt
Brown Belt

This class will focus on highly advanced skills while maintaining the basic skills that these students learned in Level 1 and Level 2 classes. Provides the students an opportunity to focus on skill sets that are at their current level.

5:30 pm: Black Belt 1st Dan

Black Belt: 1st Dan

This class is for all Black Belt students who are 1st Dan only. Advanced skills are taught and current skills are honed.

We encourage students to come to classes that are most appropriate for them, while keeping their own schedule in mind. If you are a white belt, we encourage you to come to white belt classes, where you will be able to focus on building your core set of skills that will carry you through the higher belts.

If you are an orange belt, we encourage you to come to the Level 2 classes at least part of the time, where you will be able to focus on more advanced techniques.

6:15 pm: Child and Family

Child and Family

This class is for all students of all belt levels. Basic skills are reviewed while higher belts learn more advanced skills. We have several families who come to class together during the Kid and Family classes, and it is a great way for them to spend time together.

We have students from age 5 to adult participating together in this class, so it is suitable for any student at any belt level.

7:00 pm: Black Belt 2nd Dan Up

Black Belt: 2nd Dan Up


This class is for all Black Belt students of all levels. Advanced skills are taught and current skills are honed.

We encourage students to come to classes that are most appropriate for them, while keeping their own schedule in mind. If you are a white belt, we encourage you to come to white belt classes, where you will be able to focus on building your core set of skills that will carry you through the higher belts.

If you are an orange belt, we encourage you to come to the Level 2 classes at least part of the time, where you will be able to focus on more advanced techniques.

October 11, 2017

October 12, 2017

October 13, 2017

3:45 pm: Private Lessons

Private Lessons

This class is reserved for one-on-one instruction by Master Park. There is an additional fee for this class, $30 per Private Lesson.

To reserve a space, talk to the office manager. This is a first come, first serve class.

4:30 pm: Level 1

Level 1: Yellow Stripe, Yellow Belt

This class is for all age students who hold one of the following belts:

Yellow Stripe Belt
Yellow Belt

This class will focus on the basic skills that these students need to master in order to learn more advanced techniques. Provides the students an opportunity to focus on skill sets that are at their current level.

4:30 pm: White Belt

White Belt: All white belt students.

This class is for White Belts of all ages.

In this class, the basics upon which all advanced techniques are based are stressed. This is a great class for our younger students because it gives them a chance to work on their budding skills without the stress of having higher belts around.

Please note that white belts are not required to attend this class, although it is highly recommended.
Check Out Our Trial Program

5:15 pm: Level 3

Level 3: Blue Stripe, Blue Belt, Brown Stripe, Brown Belt

This class is for all age students who hold one of the following belts:

Blue Stripe Belt
Blue Belt
Brown Stripe Belt
Brown Belt

This class will focus on highly advanced skills while maintaining the basic skills that these students learned in Level 1 and Level 2 classes. Provides the students an opportunity to focus on skill sets that are at their current level.

5:15 pm: Level 4

Level 4: Red Belt, Black Stripe


This class is for all age students who hold one of the following belts:

Red Belt
Black Stripe Belt

This class will focus on highly advanced skills while maintaining the basic skills that these students learned in Level 1 through Level 3 classes. Provides the students an opportunity to focus on skill sets that are at their current level.

6:00 pm: Child and Family

Child and Family

This class is for all students of all belt levels. Basic skills are reviewed while higher belts learn more advanced skills. We have several families who come to class together during the Kid and Family classes, and it is a great way for them to spend time together.

We have students from age 5 to adult participating together in this class, so it is suitable for any student at any belt level.

6:00 pm: Level 2

Level 2: Orange Stripe, Orange Belt, Green Belt


This class is for all age students who hold one of the following belts:

Orange Stripe Belt
Orange Belt
Green Belt

Class will focus on more advanced skills while maintaining the basic skills that these students learned in Level 1 classes. Provides the students an opportunity to focus on skill sets that are at their current level.

October 14, 2017

9:30 am: Child and Family

Child and Family

This class is for all students of all belt levels. Basic skills are reviewed while higher belts learn more advanced skills. We have several families who come to class together during the Kid and Family classes, and it is a great way for them to spend time together.

We have students from age 5 to adult participating together in this class, so it is suitable for any student at any belt level.

10:15 am: Black Belt All

Black Belt: All black belt students, all levels

(unless otherwise noted)


This class is for all Black Belt students of all levels. Advanced skills are taught and current skills are honed.

We encourage students to come to classes that are most appropriate for them, while keeping their own schedule in mind. If you are a white belt, we encourage you to come to white belt classes, where you will be able to focus on building your core set of skills that will carry you through the higher belts.

If you are an orange belt, we encourage you to come to the Level 2 classes at least part of the time, where you will be able to focus on more advanced techniques.

October 15, 2017

October 16, 2017

October 17, 2017

October 18, 2017

October 19, 2017

October 20, 2017

October 21, 2017

9:30 am: Child and Family

Child and Family

This class is for all students of all belt levels. Basic skills are reviewed while higher belts learn more advanced skills. We have several families who come to class together during the Kid and Family classes, and it is a great way for them to spend time together.

We have students from age 5 to adult participating together in this class, so it is suitable for any student at any belt level.

10:15 am: Black Belt All

Black Belt: All black belt students, all levels

(unless otherwise noted)


This class is for all Black Belt students of all levels. Advanced skills are taught and current skills are honed.

We encourage students to come to classes that are most appropriate for them, while keeping their own schedule in mind. If you are a white belt, we encourage you to come to white belt classes, where you will be able to focus on building your core set of skills that will carry you through the higher belts.

If you are an orange belt, we encourage you to come to the Level 2 classes at least part of the time, where you will be able to focus on more advanced techniques.

October 22, 2017

October 23, 2017

October 24, 2017

October 25, 2017

October 26, 2017

October 27, 2017

October 28, 2017

9:30 am: Child and Family

Child and Family

This class is for all students of all belt levels. Basic skills are reviewed while higher belts learn more advanced skills. We have several families who come to class together during the Kid and Family classes, and it is a great way for them to spend time together.

We have students from age 5 to adult participating together in this class, so it is suitable for any student at any belt level.

10:15 am: Black Belt All

Black Belt: All black belt students, all levels

(unless otherwise noted)


This class is for all Black Belt students of all levels. Advanced skills are taught and current skills are honed.

We encourage students to come to classes that are most appropriate for them, while keeping their own schedule in mind. If you are a white belt, we encourage you to come to white belt classes, where you will be able to focus on building your core set of skills that will carry you through the higher belts.

If you are an orange belt, we encourage you to come to the Level 2 classes at least part of the time, where you will be able to focus on more advanced techniques.

October 29, 2017

October 30, 2017

October 31, 2017

November 1, 2017

November 2, 2017